---
« Previous Product | Next Product »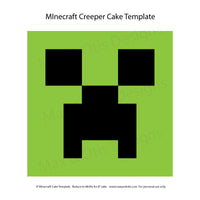 Minecraft Creeper Cake Template -
Printable PDF for 9" square cake approximately 2 inches tall (single box of cake mix).
Can be used for 8" cake as well, just reduce size when printing to 88.8% in your printer settings.
How to use our Minecraft Cake Template:
Print out template and cut out squares to use as guidelines for fondant.
Use a knife to outline to create guidelines for icing.
Cut out template with waxed paper and use as a stencil to create black squares over frosted cake.
« Previous Product | Next Product »